2018 Pinot Blanc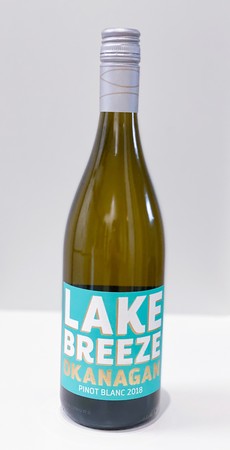 Pinot Blanc is our signature white wine and is a consistent award winner. This wine shows aromas of fresh pear and green apple with a bright finish and an underlying minerality.
Product Reviews
Robert Hirzer
(Sep 12, 2020 at 4:29 AM)
2018 Lake Breeze Pinot Blanc (Okanagan) If you're drawing a blank on Pinot Blanc, don't feel bad. This genetic mutation of Pinot Noir is sort of a Chardonnay wannabe, often used for blending with other varietals. But at Lake Breeze, it is THE signature wine. The label is bold, clear and accessible...just like the wine. A pear, citrus and chamomile aroma is followed by a mouth filling melange of Gala apple, Meyer lemon and a pleasantly tangy, bitter grapefruit finish. Bone dry yet creamy on the palate with a crisp minerality. Reminiscent of a big Torrontés from Salta. Like me, this wine is up for most white meats and seafood. Hurry with the curry...or perhaps a swell dish of shellfish.